Part of the Obesity, Diet and Lifestyle theme of the NIHR Biomedical Research Centre, Oxford
Funder: National Institute for Health Research
Project dates: Apr 2017 – Mar 2022
The University of Oxford's Medical Science Division and local NHS partners received funding from the NIHR to extend their Biomedical Research Centre. One theme of the BRC3 funding is 'Obesity, Diet and Lifestyle', led by Professor Susan Jebb of the Nuffield Department of Primary Care Health Sciences. This will support the Centre's work establishing research platforms for:
monitoring the food supply in the UK
remotely measuring food purchasing behaviour
delivering dietary interventions at the point-of-purchase within online supermarkets.
We have developed two research tools which generate data on the nutritional quality of food in the UK and the behaviour of online supermarket shoppers. These tools support other projects within the Centre (the Evaluation of the UK Sugar Drink Industry Levy and Development of Digital Apps for Self-Monitoring Food Purchases).
FoodDB
foodDB is a time-stamped, weekly updated database of all foods and drinks available for purchases in six UK online supermarkets (Tesco, Waitrose, Asda, Ocado, Morrisons and Sainsbury's). Data are collected on nutritional quality, ingredients, price, recommended serving size and whether or not the product is on offer.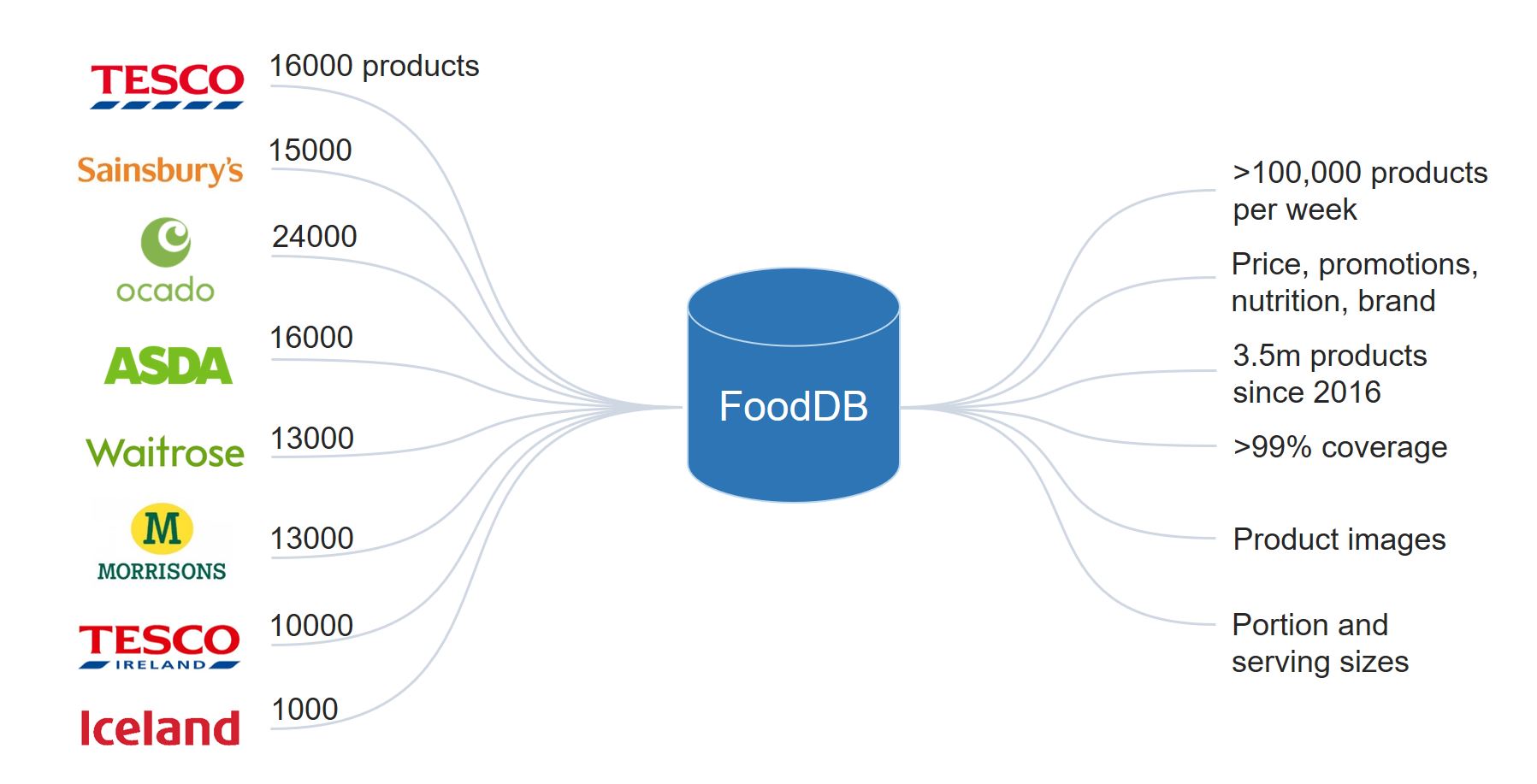 For more information on foodDB, or to request access to foodDB data, please contact Vyas Adhikari at vyas.adhikari@dph.ox.ac.uk
betterbasket
BetterBasket is a web browser extension that operates whenever a user visits Tesco, Waitrose, Asda, Ocado, Morrisons and Sainsbury's online supermarket and provides an augmented shopping experience. In addition to the usual functionalities of the website BetterBasket provides traffic light food labelling for all products, a running tally of the nutritional quality of foods added to the basket and a summary of the nutritional quality of the basket at the checkout.  Users can also save their shopping data to an associated website for self-monitoring. The BetterBasket browser extension provides the platform for multiple interventions within an online supermarket setting, as well as a mechanism for remotely measuring food purchases of study participants.